LAMOTTE MODEL AT38 WATER QUALITY DEMO KIT

---

We sell direct to all Government, Commercial and Residential Clients.
---
Shipping is only $10.95 per order no matter how many items*
Full Product Index Quick View
LAMOTTE MODEL AT38 WATER QUALITY DEMO KIT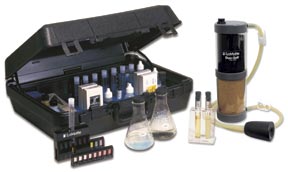 Hardness, Iron, and pH tests. Precipitation and soap consumption demonstrations. Reagents for 100 repetitions of each tests, 50 for Iron and pH. Model S-6 water softener softens up to 70 gallons of 7 gpg water. Reagents refills sold separately. Optional Test modules available: Chlorine, Nitrate, and TDS.


Page : [1]


---
We Offer Over 22,000 Products

---
---
Got a Millipore Water System?
For Huge Savings
Click Here
---
Google Apps
---


Images may or may not be of actual product.

* Flat Rate UPS shipping when able to ship via UPS and is in the USA excluding Hawaii and Alaska. Larger Items may not be able to ship via UPS, in that case freight charges will be quoted seperately.

5/30/2015 at 3:25:31 PM