Celebrating 32 years providing high quality products and advice.
Our Local Time Is 8:18:50 AM.
Call us at 818-786-0600. We are here to help!
ON SALE NOW
Introducing the Polaris Lab Water Systems
High Purity Water Made In The USA.
Click here for more info.
---
Bottled Water and Distilled Water
Bottled and Distilled Water

Q: I want the safest possible water. Is bottled water safer than tap water?

A: Bottled water is not necessarily any safer than your local drinking water. EPA regulates public water systems to ensure that they are in compliance with national standards; bottled water is regulated by the Food and Drug Administration as a food product. Both agencies use equivalent health standards to ensure safety. For information concerning bottled water, you can contact the FDA at 1-888-463-6332 In addition, the International Bottled Water Association (IBWA) may also be helpful. They can be reached at 1-800-928-3711.

If you want the safest water possible, then boil your water for one minute, whether it is tap water or bottled water. NSF International, an independent non-profit organization, certifies some brands of bottled drinking water.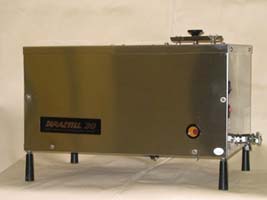 Drinking Water Distillers
Images are representative of the products. Images may or may not be of the actual product. If it is important e-mail us for an actual image if available.

* Flat Rate UPS shipping when able to ship via UPS and is in the USA excluding Hawaii and Alaska.
Larger Items may not be able to ship via UPS, in that case freight charges will be quoted seperately.
International shipping will be quoted after the order is placed. You will have the opportunity to cancel before we finalize your order.

Terms and conditions
Credit Application
Privacy Policy
List All Products