Celebrating 32 years providing high quality products and advice.
Our Local Time Is 6:58:29 PM.
Call us at 818-786-0600. We are here to help!
Introducing the Polaris Lab Water Systems
High Purity Water Made In The USA.
Click here for more info.
---
What is pH?
pH is a measure of how acidic/basic (alkaline) water is. The range goes from 0 - 14, with 7 being neutral. pHs of less than 7 indicate acidity, whereas a pH of greater than 7 indicates a base. pH is really a measure of the relative amount of free hydrogen and hydroxyl ions in the water. Water that has more free hydrogen ions is acidic, whereas water that has more free hydroxyl ions is basic. Since pH can be affected by chemicals in the water, pH is an important indicator of water that is changing chemically. pH is reported in "logarithmic units," like the Richter scale, which measures earthquakes. Each number represents a 10-fold change in the acidity/basicness of the water. Water with a pH of 5 is ten times more acidic than water having a pH of six.

Pollution can change a water's pH, which in turn can harm animals and plants living in the water. For instance, water coming out of an abandoned coal mine can have a pH of 2, which is very acidic and would definitely affect any fish crazy enough to try to live in it! By using the logarithm scale, this mine-drainage water would be 100,000 times more acidic than neutral water -- so stay out of abandoned mines.


---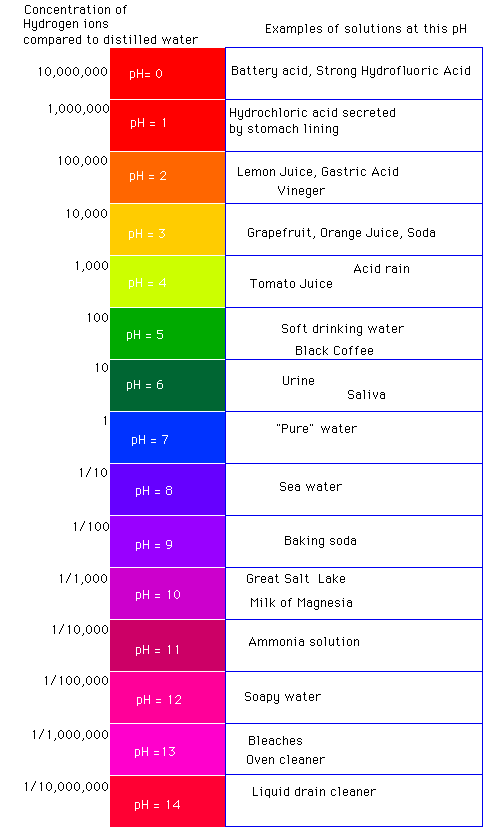 Images are representative of the products. Images may or may not be of the actual product. If it is important e-mail us for an actual image if available.

* Flat Rate UPS shipping when able to ship via UPS and is in the USA excluding Hawaii and Alaska.
Larger Items may not be able to ship via UPS, in that case freight charges will be quoted seperately.
International shipping will be quoted after the order is placed. You will have the opportunity to cancel before we finalize your order.

Terms and conditions
Credit Application
Privacy Policy
List All Products