Celebrating 32 years providing high quality products and advice.
Our Local Time Is 4:45:52 PM.
Call us at 818-786-0600. We are here to help!
Introducing the Polaris Lab Water Systems
High Purity Water Made In The USA.
Click here for more info.
---
How to change the filter in an Ametek or similar filter housing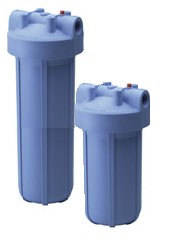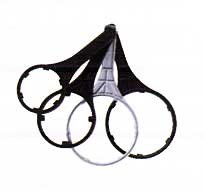 Turn off water supply to bowl assembly

Relieve pressure by depressing the red releif valve (on top) or by drawing off fluid downstream from the housing.

Turn the bowl assembly left (counter clockwise) and remove it.

It is much easier with a filter wrench.

You can find them here if you need one.

Discard old cartridge and rinse the bowl assembly.

New filters can be found here.

Ensure that there are gaskets on both ends of the new cartridge and insert the cartridge into the bowl with arrow pointing to the open end of the bowl.

Connect the bowl to the head assembly and turn right (clockwise) until tight.

Slowly turn on the water supply to check assembly for leaks, and then turn it on completely.

Flush cartridge for a couple of bed volumes before using in your system.


Images are representative of the products. Images may or may not be of the actual product. If it is important e-mail us for an actual image if available.

* Flat Rate UPS shipping when able to ship via UPS and is in the USA excluding Hawaii and Alaska.
Larger Items may not be able to ship via UPS, in that case freight charges will be quoted seperately.
International shipping will be quoted after the order is placed. You will have the opportunity to cancel before we finalize your order.

Terms and conditions
Credit Application
Privacy Policy
List All Products