Celebrating 32 years providing high quality products and advice.
Our Local Time Is 7:04:41 PM.
Call us at 818-786-0600. We are here to help!
Introducing the Polaris Lab Water Systems
High Purity Water Made In The USA.
Click here for more info.
---
Mercury Contamination
The effluents of many industrial processes, as well as surface water and groundwater from historically polluted sites, often contain unacceptably high levels of Mercury and other toxic trace metals. Although inorganic Hg itself is not bioaccumulative, it is readily converted to methyl mercury in the ambient environment, and so should be removed before discharge. The U.S. EPA has identified mercury-contaminated groundwater and surface water as areas of particular concern, and has emphasized development of innovative, robust extraction technologies.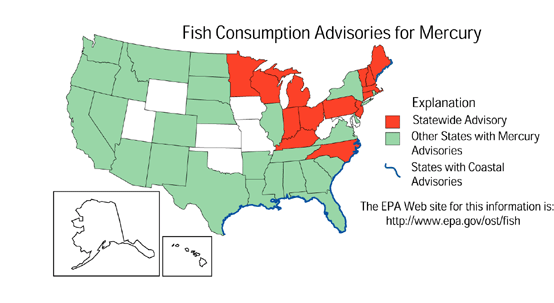 Mercury contamination is a significant problem for aquatic organisms and predators as well as a potential health risk for humans. Many lakes in the northern United States, southern Canada, and Scandinavia are affected by mercury contamination (Mierle, 1990; Hurley and others, 1991; Lindqvist, 1991). Florida and 27 other states have issued health advisories that restrict consumption of fish because of high levels of mercury (Tom Atkeson, Florida Department of Environmental Regulation, written commun., 1992). The problems with mercury relate to two factors--mercury biomagnifies in the food chain to toxic concentrations, even though it is found at very low (subnanogram-per-liter) concentrations in water; and mercury is transported and deposited through atmospheric processes and is, thus, widely distributed. Methylmercury is the more toxic bioaccumulative species. As a result of environmental changes, increased rates of methylation may be contributing to toxic mercury problems. For example, a change from an aerobic to an anaerobic environment would favor increased mercury methylation (Winfrey and Rudd, 1990; Gilmour and Henry, 1991) and mercury uptake in the biota. Because of the existing burden of mercury in the environment, recycling of mercury between demethylated and methylated forms can provide a source of methylmercury even if atmospheric deposition ceased. However, estimates indicate that atmospheric mercury concentrations have nearly doubled over the last 50 years (Fitzgerald and others, 1991; Slemr and Langer, 1992). Increasingly evident is the fact that even modest increases in atmospheric deposition can translate into mercury levels in organisms that are of ecological and, perhaps, toxicological concern.

Remove Mercury with :

Images are representative of the products. Images may or may not be of the actual product. If it is important e-mail us for an actual image if available.

* Flat Rate UPS shipping when able to ship via UPS and is in the USA excluding Hawaii and Alaska.
Larger Items may not be able to ship via UPS, in that case freight charges will be quoted seperately.
International shipping will be quoted after the order is placed. You will have the opportunity to cancel before we finalize your order.

Terms and conditions
Credit Application
Privacy Policy
List All Products