Celebrating 32 years providing high quality products and advice.
Our Local Time Is 6:51:29 PM.
Call us at 818-786-0600. We are here to help!
Introducing the Polaris Lab Water Systems
High Purity Water Made In The USA.
Click here for more info.
---
Removing Sulfur Smell Rotten Egg and other Contaminants With a Water Softener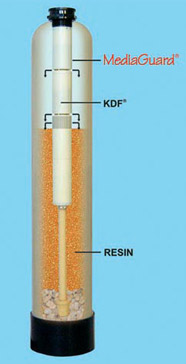 Water Softeners are great devices for treating water in your home. Along with removing calcium and magnesium, they can also remove Iron, bad smells and tastes when fittied with a simple mediaguard KDF filter inside the softener.

KDF Process Media are high purity copper-zinc granules that reduce contaminants in water using oxidation/reduction (redox reaction. KDF 55 process medium is an effective chlorine removal agent used in point-of-entry (POE treatment of municipal water supplies. KDF 85 process medium is an effective iron (ferrous and hydrogen sulfide (H2S removal agent that may be used alone or to protect existing water filtration/purification technologies in POE treatment of groundwater supplies.


Images are representative of the products. Images may or may not be of the actual product. If it is important e-mail us for an actual image if available.

* Flat Rate UPS shipping when able to ship via UPS and is in the USA excluding Hawaii and Alaska.
Larger Items may not be able to ship via UPS, in that case freight charges will be quoted seperately.
International shipping will be quoted after the order is placed. You will have the opportunity to cancel before we finalize your order.

Terms and conditions
Credit Application
Privacy Policy
List All Products