Celebrating 32 years providing high quality products and advice.
Our Local Time Is 3:59:15 AM.
Call us at 818-786-0600. We are here to help!
ON SALE NOW
Introducing the Polaris Lab Water Systems
High Purity Water Made In The USA.
Click here for more info.
---
Barnstead Easypure II How to select the right model for your application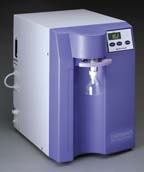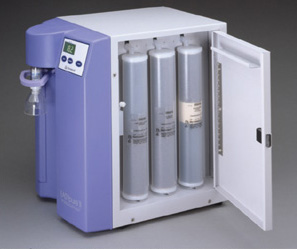 The Easypure laboratory grade water system is a perfect mix of simplicity, high purity and low cost. Easypure systems deliver 1 liter per minute of high purity water and offers some of the lowest operating costs on the market. Easypure systems are available in 4 different versions to give you the purity level you need.    

See all Easypure II systems

To select the right Easypure system, first you have to make one of two choices. The water supply for the Easypure system can either be pressurized pretreated water or you pour pretreated water into a built in storage tank.

The RF series systems have a storage tank that you manually fill and then that water is purified. This is good for small batches of less than 1 liter at a time.

The LF series systems are permanently connected to pretreated feed water and deliver 1 liter per minute continuously as needed.

Once deciding on the RF or LF series systems, you choose one of 4 purity levels.  All versions deliver NCCLS Type I lab grade water. Type 1 water is > 10 megohm in ionic purity, silicate and bacteria free.  Some system versions include special devices for extra water purity for the treatment of endotoxin, pyrogens, ultra-low total organic carbon or combinations of all. 
 

---

Easypure Basic

These systems produce Type I water. They are used in general laboratory applications when ion and bacteria free water is needed.

Replacement Filters
RF Operating Manuals
LF Operating Manuals



---
  
Easypure UV

The addition of a special ultraviolet light allows these systems produce type I water with ultra low levels of organic contamination (< 5 p.p.b.). They are used in general laboratory applications when ion, bacteria and organic (toc) free water is needed such as chromatography, cell culture and other applications.

Replacement Filters
Operating Manuals


---
  
Easypure UF

The addition of a ultrafilter allows these systems produce type I and pyrogen (endotoxin) free water. They are used in general laboratory applications when ion, bacteria and pyrogen free water is needed such as cell culture, glassware prep and media production.


Replacement Filters
Operating Manuals


---
  
Easypure UV/UF

These systems combine both Ultraviolet and Ultrafiltraton technology to produce Type I, Pyrogen free water with ultra low levels of organic contamination. They are used in critical laboratory applications when ion, bacteria, organic (toc) and pyrogen free water is needed such as critical cell culture, growth media production, protoplasts and others.

Replacement Filters
Operating Manuals


---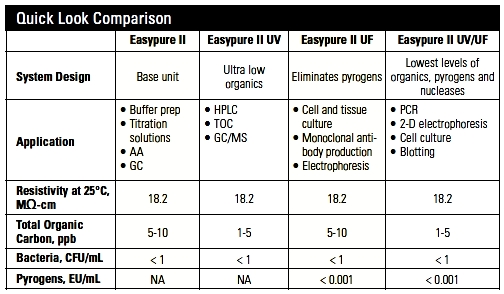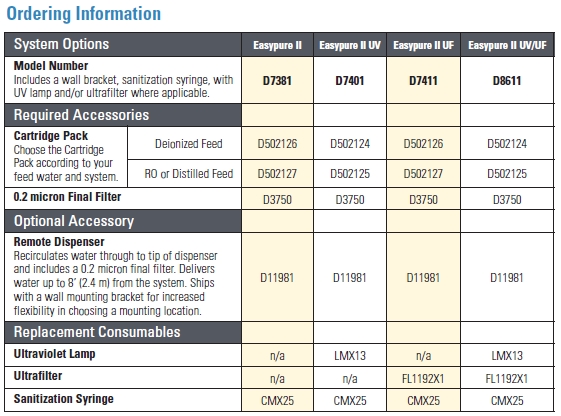 Images are representative of the products. Images may or may not be of the actual product. If it is important e-mail us for an actual image if available.

* Flat Rate UPS shipping when able to ship via UPS and is in the USA excluding Hawaii and Alaska.
Larger Items may not be able to ship via UPS, in that case freight charges will be quoted seperately.
International shipping will be quoted after the order is placed. You will have the opportunity to cancel before we finalize your order.

Terms and conditions
Credit Application
Privacy Policy
List All Products