Celebrating 32 years providing high quality products and advice.
Our Local Time Is 3:41:50 PM.
Call us at 818-786-0600. We are here to help!
Introducing the Polaris Lab Water Systems
High Purity Water Made In The USA.
Click here for more info.
---
ZeroWater Much Ado About Nothing

We have seen the commercials.

A man tells you

"Our water is better, it has nothing in it. We will even give you a meter to test it."

Sounds great doesn't it?

Our opinion based on 30 years experience is different.

When you remove all the minerals in water, it has nothing left and that includes taste.

Is drinking pure water beneficial to you?

No it is not. Water must have some minerals in it, otherwise it will take minerals where ever it can find. In the case of "ZEROWATER(R)", it is from your body.

On their website they claim:

"Unlike conventional gravity-fed water filters, Zero Water's patented 5-stage ion-exchange filter delivers the only filtered water to measure absolute 000 on the TDS meter. Compare that to the level in your tap water, even after being filtered through the leading filter pitchers."

They seem to be trying to trick you into either thinking they have the only filter that removes all minerals in water, or they are saying they have the only "gravity fed" system that removes all of the minerals in the water.

In fact what they are doing is removing all the beneficial minerals from water and it doesn't matter if you compare it to a gravity fed pitcher or a pressure fed filter (which is far more efficient), the result is the same and in the end it is a marketing ploy to trick you into thinking their water is better then all others. We think not.

These Mixed Bed/Carbon Filters will do essentially the same thing at a much lower cost. Although we do not recommend then for drinking water since they remove too much from the water.  

We have offered deionized water filter systems for 20 years.

Most name brand purified water starts out as "ZERO WATER", meaning all the minerals are removed. If you read the labels on bottled water you will see the TDS listed. That stands for "Total Dissolved Solids" or the mineral content in parts per million (p.p.m. or mg/l). Aquafina and some of the other bottled waters have 1 tds or 1 p.p.m. but they do not taste very good. The better bottled water like 'Fiji' or 'Evian' start out as "ZEROWATER" but then they add bicarbonate back into the water to buffer its acidity and to greatly improve taste.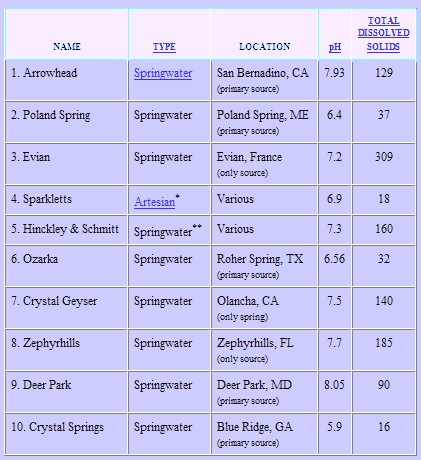 In our opinion "ZEROWATER" is nothing special except as a  marketing gimmick. It does not improve your health any more than any other bottled water and it can be argued it actually robs minerals from you.

If you want water with nothing in it, then you want a Distiller. If you want simple, inexpensive good tasting and safe water, then you should look at a Reverse Osmosis System.

In the meantime, if you are going to drink bottled water, do what I do and stick with water that has minerals added. Fiji is my favorite.

If you have questions or comments, please contact us.

We are not affiliated with ZERO Water, Fiji Water or any other bottled drinking water manufacturer. This article in an opinion piece written as a public service to our readers.

Zerowater is a registered trademark of Zero Technologies, LLC.

Images are representative of the products. Images may or may not be of the actual product. If it is important e-mail us for an actual image if available.

* Flat Rate UPS shipping when able to ship via UPS and is in the USA excluding Hawaii and Alaska.
Larger Items may not be able to ship via UPS, in that case freight charges will be quoted seperately.
International shipping will be quoted after the order is placed. You will have the opportunity to cancel before we finalize your order.

Terms and conditions
Credit Application
Privacy Policy
List All Products