Need a New Laboratory Water System?
We have many to choose from. We can save you thousands on
Complete Systems and replacement filters for most brands.
---
Chinese products are cheap but have a high poison risk with medical products
Chinese products have one thing going for them. They can be cheaper but as you will see with these articles, cheap poison is still poison.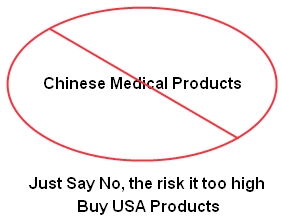 Would you really trust you important scientfic work to manufacturers who lie cheat and steal to get your business?  Promises are cheap, making a pure product for use in the sciences can be expensive when short cuts are not taken.

APS ULTRA brand products are manufactured in the USA under strict manufacturing requirements.  

Here is an article from the New York Times

Stories in this Pulitzer Prize-winning series have examined how dangerous and poisonous pharmaceutical ingredients from China have flowed into the global market. Reporting on four continents, Walt Bogdanich and Jake Hooker traced the illicit ingredients through traders and middlemen that formed a supply chain stretching from small factories in rural China to consumers around the world. The stories detailed the devastating, sometime deadly, human cost of this toxic pipeline.

Read the full article here






Images are representative of the products. Images may or may not be of the actual product. If it is important e-mail us for an actual image if available.

* Flat Rate UPS shipping when able to ship via UPS and is in the USA excluding Hawaii and Alaska.
Larger Items may not be able to ship via UPS, in that case freight charges will be quoted seperately.
International shipping will be quoted after the order is placed. You will have the opportunity to cancel before we finalize your order.

Terms and conditions
Credit Application
Privacy Policy
List All Products