Celebrating 32 years providing high quality products and advice.
Our Local Time Is 3:56:38 PM.
Call us at 818-786-0600. We are here to help!
Introducing the Polaris Lab Water Systems
High Purity Water Made In The USA.
Click here for more info.
---
Water Softener Regeneration Cycle Times
Water softeners regenerate by removing trapped contaminants and replacing them with either sodium or potassium depending on which chemical you put in the brine tank.

The following steps are involved with regeneration: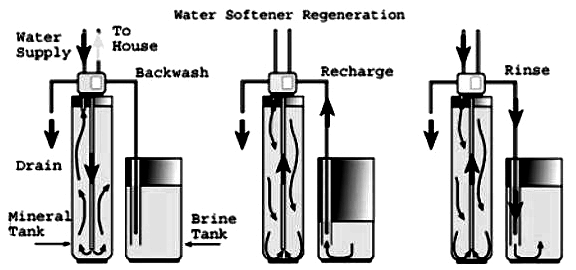 Backwash - 10 minutes

This step removed accumulated dirt and such while also fluffing up the media bed.


Brine rinse - 50 minutes ( and no less, as this is the most critical cycle )

This step floods the mineral bed with high concentrations of chemical and chases off the hard water minerals it gathered during normal operation. The high level of chemical also replaces the charge on the media to allow it to grab hard minerals again when back in normal use.  


Rapid rinse - 10 minutes

This step removes the excess regeneration chemical from the mineral bed.  


Settle rinse - 5 minutes

This step repacks the mineral bed to allow for proper flow of the water over the mineral bed during normal operation.  


Brine refill - until it refills back to normal water level in brine tank ( 6 - 16 minutes ).

This step refills the bring tank with water to allow the chemical to dissolve and be ready for the next regeneration. You need at least 4 hours in between regeneration to be sure you have the proper concentration of regeneration chemical.

All water softeners can use either Sodium chloride or Potassium chloride pellets in the brine tanks. These pellets dissolve inn the brine water to make regenerant chemical.


Images are representative of the products. Images may or may not be of the actual product. If it is important e-mail us for an actual image if available.

* Flat Rate UPS shipping when able to ship via UPS and is in the USA excluding Hawaii and Alaska.
Larger Items may not be able to ship via UPS, in that case freight charges will be quoted seperately.
International shipping will be quoted after the order is placed. You will have the opportunity to cancel before we finalize your order.

Terms and conditions
Credit Application
Privacy Policy
List All Products