Celebrating 32 years providing high quality products and advice.
Our Local Time Is 3:55:10 PM.
Call us at 818-786-0600. We are here to help!
Introducing the Polaris Lab Water Systems
High Purity Water Made In The USA.
Click here for more info.
---
How to change the resin in a water softener
Changing the water in your softener is not a difficult task.

Here is a diagram that shows what is inside most water softeners.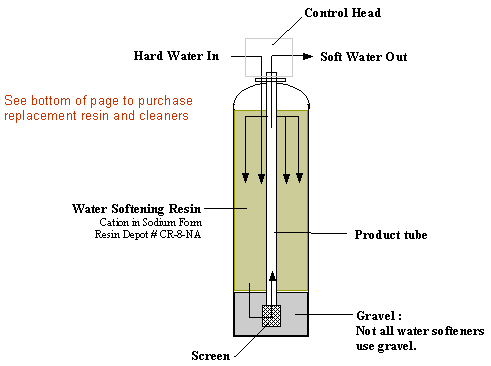 To replace resin in most water softeners:


Turn off water


Rotate the the controller control handle to put the softener through its cycles. This will bleed off any pressure still in the unit.


Unplug the power.



Disconnect plumbing.


Unscrew control head by holding tank between your knees and turning the head to the left. Having someone hold the tank for you will make this a little easier.


Remove the resin.


The resin is inert, but you do not want to put it on the ground because as it drys it become like ball bearings that can give you quite a ride if you walk on them.

The resin moves freely in water. I have found the easiest way to get the resin out is to lay softener tank on one side over some type or receptacle.

A. You can lay it over a trash can.

B. Insert garden hose.

C. Allow water to rinse the old resin out.

D. Discard old resin.

E. Save old gravel.


Refill the Tank


F. Stand tank upright.

G. Insert the product tube back into the tank.

H. Place tape over the opening in the product tube.

I. Refill gravel so it covers screen completely.

J. Pour in new resin until tank is 3/4 full.

K. Remove tape on product tube.


Re-attach control head

J. Line up the product tube so it is in the center of the opening. Place the control head back on the softener allowing the tube nto go into the center hole on the control head. Turn head to the right until snug. There is no need to over tighten the head.


Reconnect plumbing



Put the softener back online


K. Turn on water

L. Put system in manual regeneration

M. Test product water for softness

Related Articles:

Which Softener Resin do you need?
How Much Media do you need?
All About Water Softeners






Images are representative of the products. Images may or may not be of the actual product. If it is important e-mail us for an actual image if available.

* Flat Rate UPS shipping when able to ship via UPS and is in the USA excluding Hawaii and Alaska.
Larger Items may not be able to ship via UPS, in that case freight charges will be quoted seperately.
International shipping will be quoted after the order is placed. You will have the opportunity to cancel before we finalize your order.

Terms and conditions
Credit Application
Privacy Policy
List All Products