For Expert Technical and Customer service call us at 800-460-9011 : Need Quick Help? Try Ask Amy
| | |
| --- | --- |
| | Laboratory Equipment |

| | |
| --- | --- |
| | Laboratory Water |

| | |
| --- | --- |
| | Laboratory Filters |

| | |
| --- | --- |
| | Commercial / Residential Water |
Properties and Structure of Water
We provide our products and services direct to consumers as well as to distributors worldwide. All are welcome.
 

---

Water has many unexpected and remarkable properties. Its molecular weight would suggest that its boiling and freezing points should be lower than they are and based on molecular weight water should freeze at -100oC and boil at 80oC. However its boiling point and freezing point are 100oC and 0oC. In addition water occurs on earth in its three natural states solid liquid and gas and there are no other substances on earth that exist in all three states like water does. Water at 4oC beings to expand instead of contract like other substances, and at 0oC it becomes ice a solid occupying a volume approximately one eleventh greater than its volume at 4oC. As a result when in water floats upon itself.



If the reverse were true and ice did not float, water would freeze from the bottom up and thus as a solid mass destroy all life within the water as it freezes. This would have dire consequences on the environment as frozen masses of water would remain frozen from season to season dramatically changing the climate and weather. Evaporation would be less and thus precipitation would also be less. Some places would be stark and arid due to a lack of water and thus temperatures would fluctuate greatly from each day to night. Days would be extremely hot and night would be extremely frigid without the temperature moderating effects of water.



---

More Information About Water

    
 
Got Millipore?
Click Here
For Huge Savings
We Offer Over 28,000 Products

Rated "A+" with the BBB

27 years
Zero Complaints


Need Help?
818-786-0600
Best New Product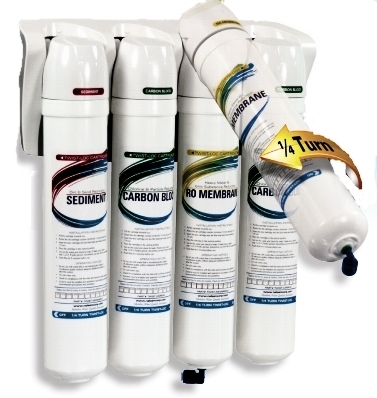 Quick Twist
Reverse Osmosis System
Great for Lab Water Pretreatment
or Great Drinking Water

APS Water Services Corp. 7320 Valjean Ave, Van Nuys, CA. 91406
800-460-9011 Toll Free | 818-786-0600 Local/International | 818-786-2347 Fax | Public@apswater.com
---
Images may or may not be of actual product.

* Flat Rate UPS shipping when able to ship via UPS and is in the USA excluding Hawaii and Alaska.
Larger Items may not be able to ship via UPS, in that case freight charges will be quoted seperately.

4/19/2018 at 2:34:29 PM