For Expert Technical and Customer service call us at 800-460-9011 : Need Quick Help? Try Ask Amy
| | |
| --- | --- |
| | Laboratory Equipment |

| | |
| --- | --- |
| | Laboratory Water |

| | |
| --- | --- |
| | Laboratory Filters |

| | |
| --- | --- |
| | Commercial / Residential Water |
PH ADJUSTMENT
We provide our products and services direct to consumers as well as to distributors worldwide. All are welcome.
---
Calcite Acid Neutralizer
List all 2 products in this group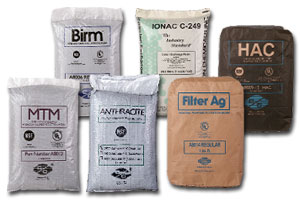 Flowing acidic water through a bed of Calcite will dissolve it and raise the pH on water from 5.8 to 6.6. The bed should be backwashed on a regular basis and replaced periodically as it dissolves.
---
Corosex / Flomag F Acid Neutralizer
List all 6 products in this group



Corosex / Flomag can be mixed with Calcite to treat waters as low as 4.0 Ph. Up flow filters are recommended unless the water is 5 grains hard. A Minimum of 50% calcite is recommended to prevent cementing.

By neutralizing the free carbon dioxide in water Corosex can correct red water conditions and render it to a non-corrosive condition. Corosex being a reactive magnesium oxide is used most effectively where pH correction is substantial or high flow conditions are in use. Corosex being soluble to acidity will have to be replenished periodically. Please note under certain conditions Corosex may over correct and create a basic condition.

Corosex / Flomax may be effectively combined with Calcite to combine a high flow neutralization properties of Corosex along with the slowing reacting low flow properties of Calcite reducing potentially high basic properties due to over correction.

We recommend Corosex / Flowmag to be blended with Calcite at a ratio or 90% Calcite and 10% Corosex / Flomag or 80% Calcite to 20% Corosex / Flomag. Corosex / Flomag works better when used with a backwashing neutralizer filter.

---

Soda Ash Acid Neutralizer

Got Millipore?
Click Here
For Huge Savings




We Offer Over 28,000 Products






Rated "A+" with the BBB
27 years
Zero Complaints







Need Help?
818-786-0600

Best New Product


Quick Twist
Reverse Osmosis System
Great for Lab Water Pretreatment
or Great Drinking Water




APS Water Services Corp. 7320 Valjean Ave, Van Nuys, CA. 91406
800-460-9011 Toll Free | 818-786-0600 Local/International | 818-786-2347 Fax | Public@apswater.com


---






Images may or may not be of actual product.

* Flat Rate UPS shipping when able to ship via UPS and is in the USA excluding Hawaii and Alaska.
Larger Items may not be able to ship via UPS, in that case freight charges will be quoted seperately.

4/19/2018 at 2:34:26 PM