Celebrating 32 years providing high quality products and advice.
Our Local Time Is 4:50:52 PM.
Call us at 818-786-0600. We are here to help!
Introducing the Polaris Lab Water Systems
High Purity Water Made In The USA.
Click here for more info.
---
Replacing resin In a water softener
The basic components of a water softener tank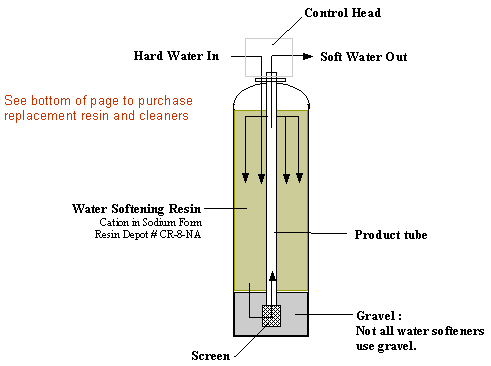 To replace resin in most water softeners


Turn off water
Disconnect plumbing
Unscrew control head
Lay softener tank on side, or over trash can
Insert garden hose
Allow water to rinse the old resin out.
Discard old resin
Save old gravel
Stand tank upright
Place tape over the opening in the product tube
Refill gravel so it covers screen completely
Pour in new resin until tank is a little over 1/2 full. (see calculator)
Remove tape on product tube
Re-attach control head
Re-connect plumbing
Turn on water
Put system in manual regeneration
Test product waster for softness



Do you need gravel in your water softener?

The rule of thumb is that if the softener tank is less than 12 inches, you do not need gravel. If it is bigger you will need gravel.